Burton & Puddington Tennis Courts are located behind the Gladstone Village Hall in the village of Burton. The courts are situated in a stunning location overlooking open farmland and the beautiful Dee Estuary.
The two recently resurfaced tarmacadam courts are available for use by members of the Burton & Puddington Tennis Section and our community. The Tennis Section is run by a small group of volunteers who enjoy playing tennis socially and are keen to preserve the village courts by encouraging all ages and abilities to play.
Parking is available onsite.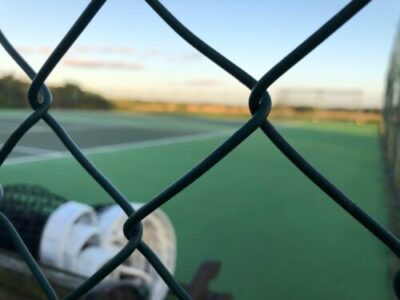 News & Events!
Bertram vs Burton 29th August 2023
Burton Tennis fielded its finest newbies…. or rather corralled a group of reluctant volunteers to take part in a friendly tennis match against Bertram Tennis Club. The hosts were gracious and welcoming as they systematically picked us off pair by pair with their rather more experienced doubles dynamos. But a great time was had by all in this the first of Burton's forays into friendly match play for quite some time.
The team came away inspired and excited to consider joining the friendly circuit more regularly next season. Many thanks to Bertram for a great evening and wonderful hospitality. Watch out for Burton news of more competitive tennis and we welcome any interested parties to come & join our team. Amanda (Team Captain)
Coaching
The next block of Coaching commences on Friday 15th September 2023. 
If there are any Juniors or Adults who are interested in tennis coaching we would love to hear from you.
Juniors from 5-6pm / Adults from 6-7pm
Price £36 for a 6 week block of coaching.
Please contact [email protected] for more information.
Tennis Open Day
Saturday 22nd April from 10am-12noon
A big thank you to everyone who came along to support our Tennis Open Day event.
It was great to see so many adults and juniors on the courts having fun in the sunshine.
Our LTA coach Leigh put everyone through their paces with warm up exercises and games before play, with lots of helpful tips and instruction on offer throughout the morning session.
It was a lovely start to the season with a welcome opportunity to catch up over coffee and cakes in the club house afterwards.
AGM Saturday 22nd April 2023